'Hypnotic Dirge Records'
is a record label based in Swift Current, SK, Canada ran by Skog (Ancient Tundra) which specializes in releasing Depressive Black Metal, Dark Ambient, Funeral Doom, Neo-classical Music, and Experimental music. Our official opening day was
October 20th, 2008.
It is important to note that this label is a serious entity and will not be ran as an amateur my-space based "black-metal label". (hense the reason for an official site) A lot of these labels are constantly releasing shitty uninspired music and producing bad-quality CDr's simply for the sake of making "collectables" and over-saturating the underground market. At Hypnotic Dirge Records, we will also be releasing some CD-r 's from time to time, but they will not be DIY - hand-made CD-r's and will instead be professionally-manafactured and guaranteed to be of excellent printing and playing quality and the music to be strong, inspired and expressive. We will also be releasing Pro-CD's, Digipacks, and merchandise items such as shirts, hoodies, etc. as well as posters, flyers and various other things whenever possible. However, It all comes down to funding unfortunately, and our artistic visions can sometimes not be brought to realization due to the costs from the manafacturers. However HDR is here for the long run and will carry on releasing quality albums by quality bands and projects.
Perhaps the most important distinction separating this lable from the majority of Black Metal themed record lables is that we will not be involved in releasing political or religious-themed albums(this applies to any sort of religion whether it be Pro-religion or Anti-religion), and no religious or politically themed bands or projects will be a part of this lable's roster.
The subject matter of the projects on Hypnotic Dirge Records varies from project to project but mostly things are on a more personal, or philosophical level as opposed to preaching a certain viewpoint about the world.
This however does not apply to the albums which we sell through our distribution in which we offer a wide variety of different sub-genres of Black Metal, Ambient, Funeral Doom, Folk, Classical , Heavy Metal, and Experimental Music
____________________________________________________________________________________
ARTIST ROYALTY AGREEMENTS
All royalty agreements with the artist will be the same for every artist. These are the basic royalty guidelines:
If you do not agree with these, don't bother requesting to be a part of the label. It's not cheap running an underground label, and if your more interested in hundreds of free albums, and making a bunch of money from your music than you do not share the same visions as I, as I constantly lose money from doing this, and have learned to be fine with that. I keep going for my love of the music, not because of selfish monetary reasons.
I - 10% of the copies printed are yours and will be shipped to you as soon as we receive them from the production company.
II - 25% of all profits are yours, and will be sent to everyone in 3 month intervals. (Profits meaning, for example if an album costs $600 to get manafactured and distributed, that is not profit. Any money made after covering the cost of production is considered profit and 25% of that will be sent to the artist.)
DISTRIBUTION
As a record label aiming to promote all of our artists, we strive to build a strong worldwide distribution for our releases so it is available in all regions of the world. At Hypnotic Dirge Records, we sell our albums worldwide anyway, but to gain exposure to our name, as well as the artists on our roster, we regularily trade, and sell wholesale to labels all around the world. In return, we receive some fantastic releases from other like-minded lables which we sell in our distribution section. We aim to keep expanding our Distribution section with quality releases by serious artists for our customers to have a wide variety of choices when placing an order while at the same time continuing to spread the word about the artists on our roster!
As a rule, we will not buy wholesale from other labels - we simply can't afford to do so. Please don't send an email requesting this, as it will be a waste of your time. The only time I will buy wholesale, is when I specifically request YOU for wholesale prices, and this happens only in very rare cases. Also, if you are a new trading partner, and you do not seem 100% trustworthy, or genuine, I may ask you to send your end of the trade first. This is only done to prevent rip-offs. This will only apply to the first time we trade. After a partnership is built and a trustworthy relationship begins, I won't ask this.
PROMOTION
When it comes to promoting our official releases, and the artists on our roster, we take an active role in making sure that people are aware of our activities. We will do a variety of things including the most basic and in my opinion most important aspect of promotion which is to send Promo CD's of our official releases to various webzines and magazines for reviews. There are a few reviewers which we regularily send our promos, including some highly-regarded reviewers such as Heathen Harvest, Hierophant Nox Zine, Meridian 9 Magazine, Asgard Root Magazine, Blastbeat Magazine, Nocturnal Cult and many more. Asides from reviews, we also work together with the artists if they wish in finding interviews, radio play on Internet radio sites, and anything else which they may want. To coincide with every album's release on HDR, I create a short promotional video and publish it on youtube under our URL
http://www.youtube.com/user/hypnoticdirgerecords
, as well as promotional flyers which are both posted online on various websites, and forums but also printed in magazines, and often printed in physical copies and posted on bulletin boards around the world.
We also send news updates regarding new releases, new distribution albums, new artists, and other general information periodically to a mailing-list that includes past customers, and partners. We will not make your email address available to any 3rd party websites, or record labels, and your email address will be hidden in all newsletters from others. However, if you want to be removed from our mailing list, just email us and we will honor your request.
If you are not on our mailing list, and wish to join. Just send us an e-mail and we will add you.
(
hypnoticdirgerecords@hotmail.com
)
For those of you who are further interested in the label, you can read a fairly recent interview I conducted with Heathen Harvest here: http://www.hypnoticdirgerecords.com/hdr ... t-webzine-
______________________________________________________________________________
*Latest Update 07/05/2010
Welcome to the Hypnotic Dirge Records Webstore!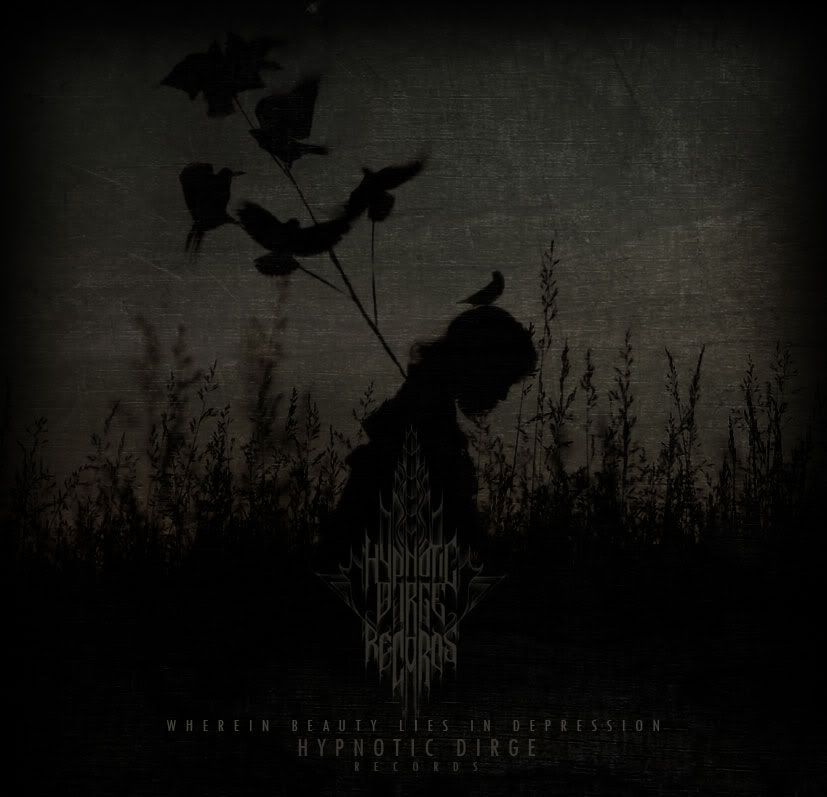 How to place an order:
If you wish to make an order using paypal, there are paypal buy now buttons on the various sections of the website (releases, merchandise, and distribution) which automatically add in your shipping prices to your total for orders of 1 CD or Shirt. If you wish to make an order for 2 or more items, send me a message on myspace, or an email to
hypnoticdirgerecords@hotmail.com
asking me for a total and I will let you know a price! (This saves you money paying for one shipping total rather than using for example 5 different paypal buttons which adds shipping to every CD)
If you wish to use a different payment option other than paypal, you must contact me letting me know your order, your address, and which method you will be paying with. Internation money-orders and bank-transfers are accepted as is well-hidden cash and cheques!
Be aware that we may be sold out of some of our distribution releases, but I remove the paypal buttons as soon as we sell out to lessen confusion. Going to the HDR distribution link below will bring you to a page on our website where we list exactly how many copies we have left of each distribution release, and when we sell out.
Any further questions can be directed to me via a myspace message or email!
Payment Options:
Paypal
Money Order
Cheque
Well-Conceiled Cash
Bank Transfer

Paypal Address:
hypnoticdirgerecords@hotmail.com
Here is a list of our available items on HDR, this will be updated regularily...
NOTE: Go to the links below for more information on all our releases:
Hypnotic Dirge Records Official Release:
http://www.hypnoticdirgerecords.com/releases.php
Hypnotic Dirge Records Official Merchandise:
http://www.hypnoticdirgerecords.com/merchandise.php
Hypnotic Dirge Records Distribution:
http://www.hypnoticdirgerecords.com/distribution.php
_______________________________________________________
HDR - 001 : Winds of Sorrow - Through Twilight...
HDR - 002 : Ancient Tundra - Requiems of a World Lost
HDR - 003 : Echoes of Silence - Beyond the Crimson Gates
HDR - 004 : Astral Luminous - Lunaric Tide
HDR - 005 : Neige et Noirceur - Demo V
HDR - 006 : Immundus - Haunted Memories
HDR - 007 : Funeral Fornication - Solitude and Suicide
HDR - 008 : Exiled From Light - Descending Further into Nothingness
HDR - 009 : Old Forgotten Lands/Ancient Tundra - Equinox
HDR - 010 : Neige et Noirceur - L'Abime des Jours, l'ecume des nuits (2CD Set)
HDR - 011 : The Foetal Mind - Supreme Cheminement
HDR - 012 : Symbiosis / Ancient Tundra - These Engulfing Winds Never Die (Pro CD/DVD)
HDR - 013 : Exiled From Light - There is no beauty left here...(2CD Set)

HDR - M - 001 : Ancient Tundra T-Shirt
(I Walk Through Vast White Fields)
HDR - M - 002 : Exiled From Light T-Shirt
(There is no beauty left here...)

HDR - D - 001: Ancient Tundra -The Desolation of an Arctic Landscape
HDR - D - 002: Satanic Scums - Grim O'er Passionate Lands
HDR - D - 003: Symbiosis - Slavine
HDR - D - 004: Ancestral/Wedard - Split
HDR - D - 005: Immundus - Torments
HDR - D - 006: Njiquadda - Nji. Njiijn. Njiiijn.
HDR - D - 007: Old Forgotten Lands - From Ethereal Forests...
HDR - D - 008: Ancestor - Phase I - Silence
HDR - D - 009: Darkflight - Perfectly Calm
HDR - D - 010: Trist - Stiny
HDR - D - 011: Black Hole Generator - Black Karma
HDR - D - 012: When Mine Eyes Blacken - Self-Titled
HDR - D - 013: The Howling Void - Megaliths of the Abyss
HDR - D - 014: Nocturnal Depression - Soundtrack for a Suicide
HDR - D - 015: Nocturnal Depression - Reflections of a sad soul
HDR - D - 016: Waning - Population Control
HDR - D - 017: Austere - Withering Illusions and Desolation
HDR - D - 018: Austere/Isolation - Bleak
HDR - D - 019: Bosse - Echoes of the Forgotten
HDR - D - 020: Lyrinx - Nihilistic Purity
HDR - D - 021: Funeral Fornication - Murder Cult Eidolon
HDR - D - 022: Paraxysmal Descent - Paradigm of Decay
HDR - D - 023: Woods of Desolation - Towards the Depths
HDR - D - 024: Mistress of the Dead - Weeping Silence of the Dead
HDR - D - 025: Anatolian Wisdom - Where the Iblis Dwells
HDR - D - 026: A Transylvanian Funeral - Self-Titled
HDR - D - 027: 'Why I Remember' Worldwide Ambient Compilation
HDR - D - 028: Sicilicidium - Utolsó vágta az Univerzumban
HDR - D - 029: Tapetum Lucidem - Machteloos Bestaan
HDR - D - 030: Nychts/Wedard - Zwischen Leere Und Nichts
HDR - D - 031: Korpblod - Hymner
HDR - D - 032: Csejthe - La Mort du Prince Noir
HDR - D - 033: Valknacht - When the might of the storm...
HDR - D - 034: Blackwind - Demain l'Apocalypse
HDR - D - 035: Monarkh - Rites Profanes
HDR - D - 036: Fredrik Klingwall - Chronicles in Decay
HDR - D - 037: Fredrik Klingwall - The Resilience
HDR - D - 038: Fredrik Klingwall - Works of Woe
HDR - D - 039 : Temnozor - Folkstorm of the Azure Nights
HDR - D - 040 : Falls of Rauros - Hail Wind and Hewn Oak
HDR - D - 041 : Ur Falc't - (Self-Titled)
HDR - D - 042 : Ur Falc't/Heretic Blood - Sur les Chemin de la Noirceur
HDR - D - 043 : SIG:AR:TYR - Sailing the Seas of Fate
HDR - D - 044 : SIG:AR:TYR - Beyond the North Winds
HDR - D - 045 : Wedard - Ein Leben in der Ewigkeit
HDR - D - 046 : Happy Days - Happiness stops here...
HDR - D - 047 : All the Cold/Fornicatus/Black Hate/Happy Days - Children of Failure
HDR - D - 048 : Deep-pression - Deep Cold
HDR - D - 049 : V/A Gothic Visions DVD/CD
HDR - D - 050 : Dark Forest - Aurora Borealis
HDR - D - 051 : Black Lotus - Harvest of Seasons
HDR - D - 052 : Njiqahdda - Yrg Alms
HDR - D - 053 : Panopticon - Collapse
HDR - D - 054 : Korpblod - Uråldrig Samklang
HDR - D - 055 : Ancestor : Phase II
HDR - D - 056 ; Echoes Therein Gale ft. Kenji Siratori - Virgin Clone
HDR - D - 057 : Hedon Cries - Hate Into Grief
HDR - D - 058 : Hypothermia - Rakbladsvalsen
HDR - D - 059 : Make a Change...Kill Yourself - II
HDR - D - 060 : Woods of Infinity - Ljuset
HDR - D - 061 : Trancelike Void - Unveiling the Silent Arms of Despair EP
HDR - D - 062 : Forgotten Woods - Sjel Av Natten
HDR - D - 063 : Sombres Forets - Quintessence
HDR - D - 064 : Sombres Forets - Royaume de Glace
HDR - D - 065 : Demorian - Back to the Glorious Past
HDR - D - 066 : Neige et Noirceur - Philosophie des Occultes Arts
HDR - D - 067 : Nocturnal Depression - Mankind Suffering Visions DVD
HDR - D - 068 : Windbruch - Collision of the Worlds
HDR - D - 069 : Grimlair - Au Commencement de l'ombre
HDR - D - 070 : Managarm - Poems of the Shadows Disappointment
HDR - D - 071 : Fornicatus - Omnium Animalis Terminus
HDR - D - 072 : Svartsinn - Elegies for the End (2CD Set)
HDR - D - 073 : Obitus - The March of the Drones
HDR - D - 074 : Self-Inflicted Violence - A Perception of Matter and Energy
HDR - D - 075 : Enmerkar - Starlit Passage
HDR - D - 076 : Ancient Tundra - The Natural Landscape of December/The Feeble Sickness and Depressive Rot [Casette]
HDR - D - 077 : Lifelover - Erotik
HDR - D - 078 : Empty - The Last Breath of my Mortal Despair
HDR - D - 079 : Empty - The House of Funerary Hymns
HDR - D - 080 : Trist - Sebevrazedni andele
HDR - D - 081 : Pensees Nocturnes - Grotesque
HDR - D - 082 : Njiqahdda - Divisionals
HDR - D - 083 : Old Forgotten Lands/Ancient Tundra - Equinox [EEE Recordings Version]
HDR - D - 084 : Raventale - Long Passed Days
HDR - D - 085 : Raventale - Mortal Aspirations
HDR - D - 086 : Vinterriket - Kaelte Schnee Und Eis (Best Of/Compilation)
HDR - D - 087 : Painful Memories - Memorial to Suffering
HDR - D - 088 : The Morningside - The Wind, The Trees, and the Shaodws of the Past
HDR - D - 089 : The Morningside - Moving Crosscurrent of Time
HDR - D - 090 : Abstract Spirit - Tragedy and Weeds
HDR - D - 091 : Tales of Dark - Perdition Calls
FREE DOWNLOAD ALBUMS
LINK:
http://www.hypnoticdirgerecords.com/downloads.php
_____________________________________________
COMING SOON:
HDR - 014 : Our Diaboilcal Embrace - Immortal Night Laments EP
HDR - 015 : Uruk-Hai/Funeral Fornication Split Album
HDR - 016 : The Foetal Mind - The Grand Contraction
HDR - 017 : netra - Urbaine melancholy
HDR - 018 : Astral Luminous - Mens. Corpus. Anima.
HDR - 019 : Funeral Fornication - Pandemic Transgression
Thanks for the support!
Skog
HDR